http://edition.cnn.com/2009/WORLD/asiapcf/09/30/japan.savoie.children/index.html
TOKYO, Japan (CNN) — The case of a Tennessee man jailed in Japan for trying to snatch back his children from his estranged wife is not as clear-cut as it's been made out to be, authorities here said Wednesday.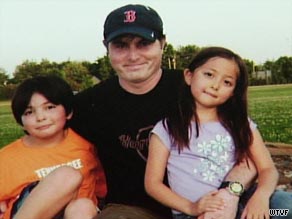 A Tennessee court awarded Christopher Savoie custody of his son, Isaac, and daughter, Rebecca.
The father, Christopher Savoie, apparently became a naturalized Japanese citizen four years ago, listing a permanent address in Tokyo, they said.
And while he and Noriko Savoie, a Japanese native, divorced in Tennessee, the two never annulled their marriage in Japan, Japanese officials said.
Also, the two children at the center of the case hold Japanese passports, they said.
« His chances of getting his children back home to the States, I think, are pretty slim right now, » Jeremy Morley, Savoie's lawyer in the United States, told CNN's « AC 360 » on Tuesday night.

Watch how dad landed in Japanese jail »
« We're getting this in the hands of Interpol. We're putting the pressure, » he added. « We want diplomatic pressure. We want the United States government to act strongly. » Read about why the case is not news in Japan
Savoie was arrested Monday when he snatched his two children — 8-year-old Isaac and 6-year-old Rebecca — as Noriko Savoie was walking them to school in Fukuoka, about 680 miles (1,100 kilometers) southwest of the capital, Tokyo.
Don't Miss
He headed for the U.S. consulate in that city to try to obtain passports for them, authorities said. But Japanese police, alerted by Noriko Savoie, arrested him.
U.S. State Department spokesman P.J. Crowley said Wednesday, « We have paid a consular visit on Mr. Savoie and we stand ready to help him in any way that we can. »
« Obviously, this is a very difficult issue, » he said. « … The United States and Japan have an important partnership but on this particular issue, the issue of … abduction, we have different points of view. »
Japanese authorities said Wednesday that Savoie was eating well and was staying in a jail cell by himself.
He will be held for 10 days while prosecutors sort out the details of the case.

Watch a discussion of U.S.-Japan custody cases »
« I know he had to go to the hospital for blood pressure issues, » said Amy Savoie, whom Savoie married after divorcing Noriko Savoie in Tennessee in January. « The gentleman from the consulate was able to contact me this morning, and he confirmed that Christopher had gone to the hospital. The first night he needed medication for his high blood pressure. »
After their Tennessee divorce, Noriko Savoie agreed to live in Franklin, Tennessee, to be close to the children, taking them to Japan for summer vacations.
In March, Savoie requested a restraining order to prevent her from taking the children to Japan, fearing she would not return.
« I was on a speaker phone telephone call once when she proclaimed to him, 'You have no idea what I'm capable of, » said Amy Savoie. « So, yes, he had the idea. »

Watch Amy Savoie discuss custody battle »
Noriko Savoie could not be reached by CNN for comment.
On the day that the two children were to begin school in August, Savoie learned Noriko Savoie had fled with them to Japan.
After that, Savoie filed for and was granted full custody of the children by a Tennessee court. And Franklin police issued an arrest warrant for Noriko Savoie.
But Japan is not a party to a 1980 Hague Convention on international child abduction.
« We continue to encourage Japan to join with our countries and sign the Hague Convention, » Crowley said Wednesday.
Foreign parents have had little luck in regaining custody, the U.S. State Department said.
« She has committed a felony, the mother, » Morley said. « It's a very serious felony. She would go to jail for serious time if she were here.
« But Japan has a different legal system and a different set of customs and ideas about custody. And their idea is that somebody who is Japanese and the mother should be entitled to have the kids and have the kids alone. The fact that they were living here is kind of irrelevant, and the fact that there's a court order here is irrelevant. »
So, Savoie flew to Fukuoka to try to get back his children — and landed himself in jail.
« These kids are the ones that are suffering, » Morley said. « These kids are without their father, and their father needs to be a part of their life. It's not fair that he's been taken away from them. »
CNN's Kyung Lah contributed to this report.